Doggy Day Care in Hallandale Beach, FL
While it is never easy to be away from your pet, the caring staff at Neighborhood Veterinary Center treats each patient with plenty of TLC. Providing an enriching and playful environment with both indoor and fenced in outdoor play areas our goal is to make your pets stay with us as comfortable as possible. We keep your pets separated by size and they are monitored by our trained staff at all times.
We are not a standard kennel. Our trained team of animal caregivers attends to the needs of all the dogs throughout the entire day. Big dogs and small dogs are in separate wide-open play areas. Play is supervised and we have a spacious arena indoor and out where dogs can frolic and interact with each other. Positive reinforcement is used and dogs are continuously monitored individually to monitor behavior or health changes. In the chance that any changes are noticed our facility is housed within a state of the art veterinary center where the doctor can be informed and respond to any changes immediately.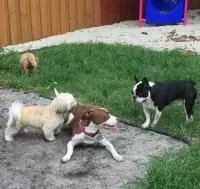 For busy pet owners, finding a dog boarding or day care center where pets can be cared for and loved can be a daunting task. You need a facility that provides a safe and secure environment where dogs will thrive. You want animal caregivers that are not only professionally trained, but will treat your dogs with genuine affection. You want a place where dogs have sufficient social interaction, stimulation, and exercise to keep those furry tails wagging happily. Look no further than your Neighborhood Vet for the best in day care and boarding options.
Overnight as well as long term boarding also available, with both classic kennel boarding and resort style options.