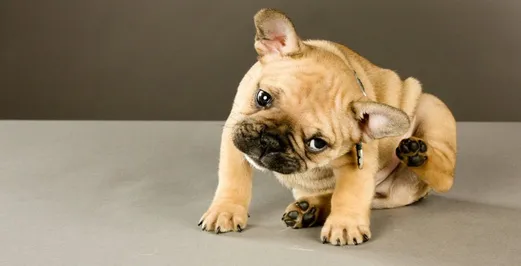 Pet Allergy Questions at Hallandale Beach, FL
Pet allergies are similar to those we might experience, and our veterinarian team at Neighborhood Veterinary Center is skilled at diagnosing and treating these conditions. Our vets, Dr. Carlos Daniel Ameijeiras and Dr. Tamata Huhn address some commonly asked questions about pet allergies.
What Allergies Can Pets Suffer From?
Four predominant types of allergies can affect our furry friends.
Food Allergies - While only about 10 percent of pets suffer from allergic reactions to food, this issue can surface at any age. Both cats and dogs can suffer from allergies due to fish, dairy, beef, chicken, soy, and eggs.
Fleas - Fleas result in allergic dermatitis, which is caused by an adverse reaction to the saliva of fleas. Even one flea bite can cause itching and skin irritation that can last for days.
Environmental Allergies - Outdoor and indoor allergens like mold, dust mites, pollen, and grass can occur seasonally or year-round and have similar effects on pets as humans.
Contact Allergies - Contact with household items like soaps, leather, carpeting, and cigarette smoke can cause breathing issues and skin irritation in dogs and cats.
What Are Concerning Symptoms?
The symptoms experienced will depend on what your pets' are allergic to. Pets with food allergies may show gastrointestinal symptoms, such as diarrhea and vomiting. Those with environmental, flea, or contact allergies often exhibit symptoms including:
Itchy eyes or skin
Hives
Continual biting, licking or chewing of the skin
Red or inflamed skin
Ear infections
What Is the Best Way to Address Allergies in Pets?
Our experienced veterinarian team will create a pet wellness program based on your pet's allergies. For example, flea and food allergies are treated by introducing ways to avoid the triggering allergen. Our vet can offer suggestions for flea medication or methods to eliminate triggering foods from your pet's diet.
For skin-based issues, we can provide soothing lotions and baths that help reduce inflammation and skin irritation. In addition, our vets will prescribe antihistamines or steroidal medication in injectable, oral, or cream forms, depending on the allergy.
Get Pet Allergy Relief at Neighborhood Veterinary Center
You can rely on the team at Neighborhood Veterinarian Center for top-of-the-line pet care in Hallandale Beach, FL. We have you covered from routine exams and grooming to surgical care and maintaining prescriptions. Contact us online, stop by our office, or call us at (954) 505-3757 to schedule an appointment.