Carlos Daniel Ameijeiras, DVM
"Dr.Carlos"
Neighborhood Veterinary Center is driven by the passion of all our staff, but it is the product of years of hard work by Dr. Carlos Daniel Ameijeiras.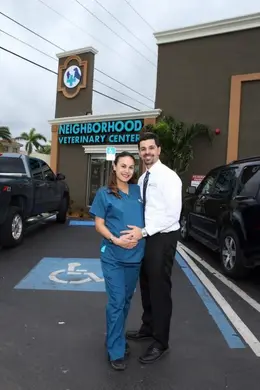 Born in South Florida, I have grown up and been a part of the Hallandale Community for over 18 years. I lived in the area through most of my childhood and still attend St. Matthews Catholic Church with my family. Driven to the veterinary field as a young child, I had set my goal to become a vet at the young age of six. Throughout my childhood, I concentrated my studies and my volunteer hours to move me towards my career goal. I graduated from Miami Springs Senior High in 2004 with several college level science credits. After spending three great years becoming a true Gator, I received my Bachelor's in Animal Science from the University of Florida in 2007. At that time, I was given the opportunity to pursue my Doctorate in Veterinary Medicine at Mississippi State University. Upon completion in 2011, I returned home to Hallandale to start my internship in a locally renowned animal hospital. After my one year internship, they retained me for another three years until the clinic was sold. After the sale I elected to venture on my own, and took a year to achieve my dream of building a clinic modeled after my own beliefs. Since opening our doors in 2015 I have strived to keep Neighborhood Veterinary Center as a pinnacle of veterinary medicine with the greatest compassion for our clients. I have continued to strive to maintain myself at the top of my craft, attending conferences, staying up with the most current journals and constantly pushing my capabilities to hone my skills. Seeing my own practice running and thriving is truly a childhood goal that has come to a reality. The opportunity to own and run my own veterinary clinic allows me to assure that my values, and my conviction for the pets, can be seen in every aspect of the hospital. From being greeted at the door, to comforting owners through the difficult times, I believe that each pet and its owner is special and should be treated as such. To be able to provide this care to a community that has been such a large part of my life only brings more joy to my heart. I want for Neighborhood Veterinary Center to continue to be a staple in Hallandale Beach for decades to come.

When it is said that we are "Family owned and operated," it really means just that. For that I have to take the opportunity to thank my family for who I am and for all that I have accomplished in my personal and professional life. Starting with my amazing wife, whose role in the building, running and working at practice has been instrumental, and would have never reached these levels without her constant love, support and dedication. I also have to mention my two beautiful daughters whose smile and laughter are the greatest source of joy in my life. Both have grown up in the clinic and continue to force me to be a better man for them. I can not exclude my parents who have supported me through all my years of schooling and have continued their devotion and support in the management of the clinic.

I look forward to seeing you and your pet around the NEIGHBORHOOD and at the clinic!
---
Tamata Huhn , DVM
"Dr. Huhn"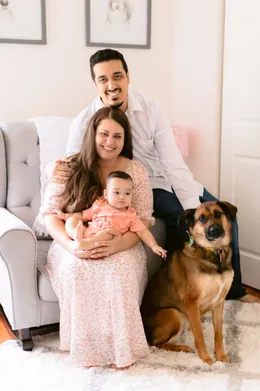 Dr. Tamata Huhn was raised in Hollywood, Florida and has lived here a majority of her life. She completed her undergraduate degree in animal
science at the University of Florida and attended veterinary school at the University of Illinois. Prior to veterinary school, Dr. Huhn worked
as a vet assistant and technician. She completed an internship at Hollywood Animal Hospital, and is very interested in small animal medicine, preventative care, and surgery. The internship helped Dr. Huhn practice alongside mentors including Dr. Carlos who helped guide and teach her. For the past few years Dr. Huhn has been practicing veterinary medicine locally in South Florida until the opportunity arose to join the Neighborhood Vet family. Aside from veterinary medicine she enjoys crafting, shopping, and spending time with her husband and their daughter and pup. Maintaining close relationships with friends and family is also very important to her as they have always encouraged and supported her dream of becoming a veterinarian.