When you have cats and or dogs, it's important to make sure that they take flea and tick prevention medication. The bites of both fleas and ticks can be highly detrimental to your pet's health. If you are in Dania, FL, or Hallandale Beach, FL, the veterinary professionals at Neighborhood Veterinary Center are ready to provide you with effective flea and tick prevention measures.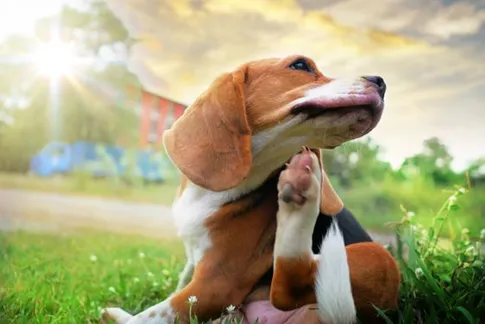 Fleas and Pets
Fleas are known for their itchy bites, but the trouble does not end there. When fleas bite pets, their highly allergenic saliva comes into contact with the pet's skin and bloodstream. This can result in allergic dermatitis. Many pets have system-wide reactions to flea bites and have serious health problems afterward. Fleas also harbor tapeworms, and pets that bite at their flea bites can swallow a flea and be infected with them. Flea bites can also cause anemia in pets as well as spread several diseases. Every pet should be on flea and tick prevention medication.
Ticks and Pets
When a pet has a tick, it stays attached to its bloodstream, allowing the tick to spread disease through your pet's bloodstream. Many bacterial infections can be passed to pets this way, including Lyme disease and Rocky Mountain spotted fever as well as anaplasmosis and babesiosis. A number of the infectious diseases that are spread to pets through ticks cause symptoms like diarrhea and lethargy. Many times, these diseases are fatal to pets. This makes flea and ticks prevention medication one of the most important things that you can do for your pet's health.
Flea and Tick Prevention in Dania, FL, and Hallandale Beach, FL
Call Neighborhood Veterinary Center today at (954) 505-3757 for more information on flea and tick prevention or to schedule an appointment with our veterinarian.